Disclosure: As an Amazon Associate TelescopeFinder earn from qualifying purchases.
---
You are on your stargazing adventure and suddenly dropped your filter. You cannot use the mobile flashlight to find it and risk losing your night sight but you also need your filter to continue skywatching.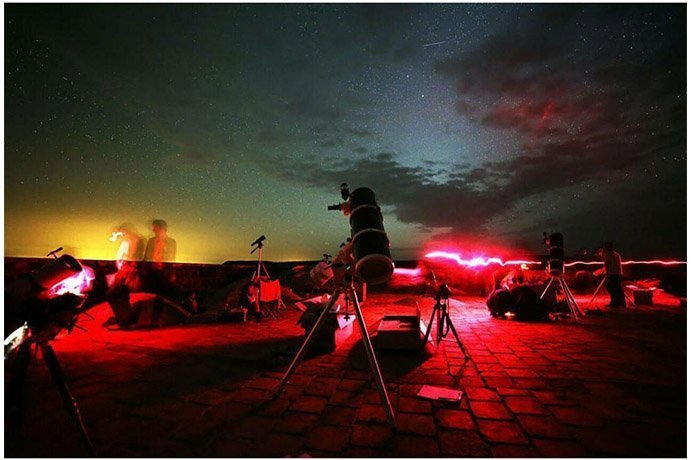 A red flashlight is a staple accessory for astronomy which every astronomer should have in their kit. They are used for navigating in the dark reading planisphere and making minor adjustments on the telescope.
We have handpicked the best red flashlight for astronomy. Whether you want a handheld or head-mounted flashlight we got you covered. The list also contains some of the heavy duty waterproof and dustproof red lamps, which can be a perfect base camp light.
Why use red flashlights?
Our eyes need sufficient time for proper dark adaptation which helps us to see better at night. Using a normal white light affects our night sight. The red flashlight preserves the dark adaptation of our eyes so that our eyes are always ready to see the faintest object in the night sky.
You can check out our article on – the role of Red flashlight in the dark adaptation of eyes for detailed information.
Best red flashlight for astronomy
Here is the list of best red flashlight for astronomy. In the end, we have also included a little buyers guide which will help you with selecting the right type of flashlight for your needs.
1. Orion Redbeam mini LED flashlight

The Red beam mini is one of the simplest flashlight made by Orion. It is also one of the smallest flashlights, so small that it can attach to a keyring. The red beam flashlight is very much comparable to a pocket laser pointer.
It works on 3 "button cells" and has a single red LED light inside. The flashlight is constructed out of aluminum and has a single on/off button on the side with no brightness control.
The flashlight is made for astronomy so the light emitted by the flashlight is faint. It is perfect for reading notes or planisphere but not for navigating in the dark.
2. Celestron Astro night vision red flashlight

The Celestron Astro flashlight is another great alternative. It is fairly compact in size and comes with two LEDs. It uses a single 9-volt battery which is included in the package.
One of the great things about this light is there is a circular dial at the top of the flashlight which allows you to change the brightness.
Now one of the shortcomings of this flashlight is due to the two LEDs the light is not evenly spread out. But on the flip side, it is bright enough that you will often find yourself reducing the brightness to comfortably read the star charts.
It is also one of the cheapest astronomy lights in the list and totally worth the price.
3.
SK68 Red Mini

The SK68 Red Mini is a rugged flashlight which has the potential to be an all in one solution for astronomers. It has the max brightness of 300 lumens which is more than sufficient for the purpose of astronomy.
The flashlight comes with three adjustment modes named – Hight — Low — Strobe. The light lets you reduce brightness when you want to read your star map and increase brightness when you want to navigate in the wild. You can change between all these modes using the button at the back.
The head of the flashlight rotates which allows you to focus or spread out the light. It uses a generic AA battery which is not included in the package.
4. Orion Redbeam motion sensing LED headlamp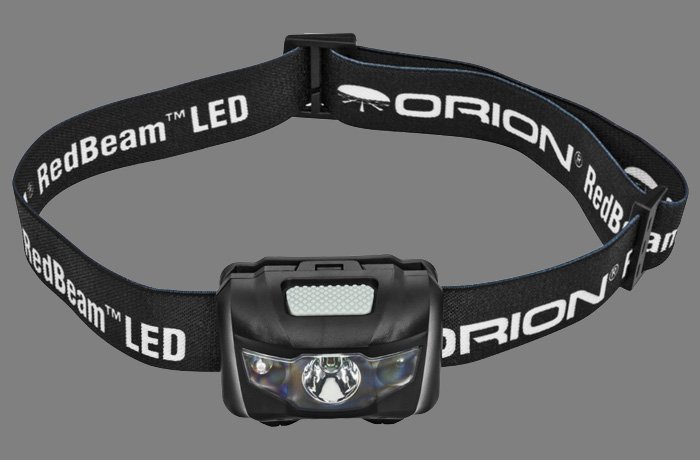 Whether it is writing notes or making adjustments in your telescope or even finding the right filter from your eyepiece case you need to use both the hands. This is where the handheld lights fall short.
A head-mounted red light like Orion Redbeam is a more practical alternative to the handheld flashlights. It keeps your hand free to do important stuff while providing a constant beam of light at the right spot.
To make the experience more fluid the headlamp uses a sensor to turn on/off the light, without needing to press a button. Simply wave your hand around four inches away from the light and you will be able to control it. The sensor is focused to 4 inches which means the light will never get triggered by mistake.
It uses 3 AAA batteries and has four adjustable brightness levels. Overall it is a light which is specifically made for astronomers and has all the features you need.
5. Orion dual beam waterproof Astro lantern
Orion Astro lantern is a stargazing-friendly lamp which can be used at your base camp. It is one of the most liked astronomy lamps and has multiple features which makes your life easier.
Starting from the power, it does not need any external power supply and works on a lithium-ion battery. It comes in two lighting mode. White light for normal uses and slightly dim red light for astronomy.
Using the lamp is easy. It starts out with red lights and cycles through 3 levels of brightness then it goes to white. You can long press to switch off the light before reaching the white light cycle.
The included 2600mAH battery is not only sufficient for itself but also can be used to charge mobile phones. The lamp has two magnetic feels which can stick to the metal surface like the telescope tube or car hoods.
The lamp flashes a blue light to indicate low power which could be a little annoying for the dark-adapted eyes.
6. DIY: Red gel filter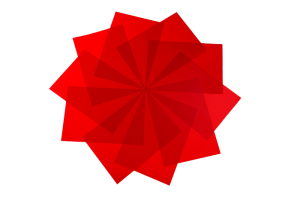 Here is a cheaper way of making your own red flashlight and maybe reuse your old flashlight. What you need to do is simply tape a Red gel filter in front of your old flashlight.
It will filter out all the other wavelength of light and only allow red light to pass, which is exactly what we want.
In case you want to adjust the brightness simply put more than one layer of the gel filter until you get the perfect brightness.
The downside of using a red filter is There could be a leakage or the filter can easily come off while you are in the middle of stargazing.
In addition to that, a filter cannot really stop all wavelengths of light. White light may still pass through which can be sufficient to ruin your night vision.
Buyers guide – What to look when buying a red flashlight for astronomy
Purpose – Decide beforehand what you will use the flashlight for and how you will use it. Not all lights are the same.
The red flashlight used for hunting and military purposes is different from a red flashlight for astronomy. If you want a red light just to read a star map than a simple flashlight like Orion Redbeam would be sufficient.
But if you want to read notes as well as navigate in the dark than you need a light with adjustable brightness levels.
Brightness – It is a known fact that the red light preserves night vision but a red light at a very high brightness cannot maintain your night sight.
For a light intended to be used for astronomical purposes, you should look for something which emits a very low amount of red light.
Battery backup – Flashlights come with different kinds of batteries which includes button cells, AA, AAA lithium ion. Ideally, a flashlight should work a long time without their batteries needing to be charged or replaced.
A rechargeable flashlight is better than their non-rechargeable counterpart because once you consume all the battery juice in the wild you still have the option to recharge and reuse them.
Avoid multiple colored lights – Many lights in the market come with 2 color combo which includes a red and white light. Some of the flashlights come with four color options Red, green, blue and white. At first glance, it may look like a great deal but you must avoid them.
Red light maintains the night vision. Using the above-mentioned light comes with the risk of white light getting triggering by accidental button press. It will result in you losing your night sight.